Zach Haller reports
on the Russia hysteria:
In recent weeks, it has come to light that Barack Obama's FBI planted Stefan Halper, a former professor at Cambridge with extensive ties to the CIA and MI6, as a spy within Donald J. Trump's presidential campaign. Following an explosive February FISA memo compiled to analyze the Obama administration's surveillance abuses in support of Hillary Clinton and the Democrats, the "Spygate" bombshell exposes new depths of the Machiavellian scheme constructed by the Obama-Clinton regime to illegally surveil and ultimately usurp Trump during his 2016 campaign and onward into his Presidency.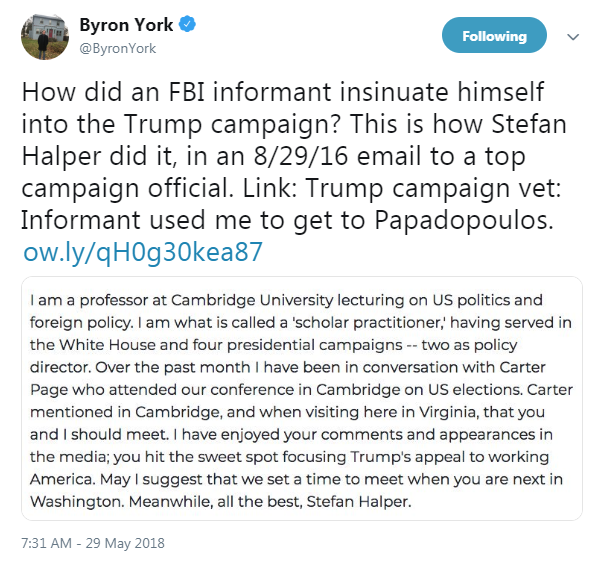 Obama's administration took the historic and egregious step of recruiting Halper, a national security academic, to spy on Trump associates during the campaign by striking up what seemed to be innocent professional contacts. Serving as a "confidential human source," an official category of spy that is regulated by the FBI's domestic investigations directive, Halper was placed in Trump's campaign as part of Obama's broader scheme to favor Clinton to succeed him, in direct conflict with the FBI's rulebook that encourages alternatives to human spies in any investigation, particularly in one involving an election-year political campaign.
Worse, Halper interacted with sources in the press during this time, providing anonymously-sourced information to lend credibility to the baseless Russia collusion investigation being used to sabotage Trump. Beyond Halper's placement as a spy, these on and off-the record media liaisons raise damning red flags regarding the consequences and impropriety of an FBI agent making independent — and subversive — disclosures to the media. According to retired FBI investigator James Gagliano, such an operation is "highly irregular," and "not something that [he] would have ever tolerated with any of the folks working for me."
So do you think the scheme goes all the way to the top? I do.
U.S. House Rep. Tulsi Gabbard is running for the Democratic Party's presidential nomination.
Trump's budget would cut Medicaid by $1.5 trillion, Medicare by $845 billion and now he wants to strike down the entire ACA, leaving 20m people uninsured. The American people deserve a president who puts their health and safety first.
#
ServiceBeforeSelf
This is C.I.'s "
Iraq snapshot" for today:
President Trump presents a posthumous medal of honor to Army Staff Sgt. Travis Atkins, who died tackling a suicide bomber in
Iraq
nearly 12 years ago. The President presented the Medal of Honor to Atkins' son, Trevor Oliver.
cnn.it/2WrDu4L
Staff Sgt.
Travis
Atkins
, who died shielding his team from a suicide bomber in Iraq in 2007, received a posthumous Medal of Honor today. His father, Jack
Atkins
, reflects on how fellow soldiers described his son. More tonight on
@

NBCNightlyNews
.
Today, President Trump presented a posthumous Medal of Honor for U.S. Army Staff Sergeant Travis Atkins to his surviving son. In June 2007, while serving in Iraq, Atkins tackled a suicide bomber, shielding three of his fellow soldiers from the explosion:
We are humbly reminded of the invaluable cost of freedom. Staff Sergeant

Travis Atkins

, United States Army, receives the

#

MedalofHonor

posthumously today through his family. We honor SSgt

Atkins

. His last actions were made to save the lives of his teammates. God Bless our troops.

We are here today to award America's highest military honor to a fallen hero who made the supreme sacrifice for our nation – Staff Sergeant Travis Atkins...

From the White House press release:

East Room 4:15 P.M. EDT THE PRESIDENT: Thank you very much. Please. Thank you. And thank you — please, sit down. Please. Thank you, Chaplain Solhjem, Vice President Pence — thank you, Mike — members of Congress, and distinguished military leaders. We are here today to award America's highest honor to a fallen hero who made the supreme sacrifice for our nation: Staff Sergeant Travis Atkins. Please join me in welcoming the entire Atkins family to the White House. Thank you very much. (Applause.) Thank you very much. Joining us to accept the Congressional Medal of Honor on behalf of Travis is his son, Trevor. Thank you very much, Trevor. We're also grateful to be joined by Travis's parents, his mother Elaine, as well as his father Jack, who served as an Army paratrooper in the Vietnam War. Thank you. Thank you very much. Thank you. (Applause.) Also here with us is Travis's sister Jennifer, along with his uncle, Sumner, and cousin, Douglas. Both are military veterans of great distinction, I might add. Thank you very much. Thank you. Thank you very much. (Applause.) To the entire Atkins family: We can never measure the true depth of our gratitude or the full magnitude of your loss, but we can pay everlasting tribute to Staff Sergeant Travis Atkins — his truly immortal act of valor. It was indeed. Thank you. We're also joined for today's ceremony by Acting Deputy Secretary of Defense David Norquist. Thank you, David. Chairman of the Joint Chiefs of Staff — somebody who is doing a fantastic job — General Joseph Dunford. Thank you, General. Thank you, Joe. Vice Chairman of the Joint Chiefs of Staff, General Paul Selva. Paul, thank you. Secretary of the Army, Mark Esper. Mark — thank you, Mark. Army Chief of Staff, General Mark Milley. Thank you, General. Thanks, Mark. Chief of the National Guard Bureau, General Joseph Lengyel. And Sergeant Major of the Army, Daniel Dailey. Thank you. Thank you all. Thank you very much. Great people. They're doing an incredible job. I have to say that. Thank you as well to Senators Steve Daines and Jon Tester. Thank you. Thank you. Jon, thank you. And Representatives Jim Banks, Greg Gianforte, Elise Stefanik, Pete Stauber, and Michael Waltz. Thank you all. Thank you, fellas. Thank you. (Applause.) And, finally, we are privileged to be in the presence of five previous Medal of Honor recipients: Ty Carter, Harvey Barnum, William Swenson, Ronald Shurer, and Brian Thacker. Thank you very much. (Applause.) Brave people. Thank you. Today, the name of Staff Sergeant Travis Atkins will be etched alongside of the names of America's bravest warriors and written forever into America's heart. Travis grew up on a farm in Bozeman, Montana. He was also and always most at home in the middle of the wilderness. He loved the wilderness. He loved to camp and to fish and to hunt. And he loved to race that snowmobile, as you know. Right? After Travis graduated high school, he worked as a painter and mechanic before he joined the Army at the age of 24. In March of 2001, his parents went to his basic training graduation ceremony at Fort Benning, Georgia. When they reunited with their son, he told them, "This basic training was the best time I've ever had in my life." In other words, he loved it. (Laughter.) Travis quickly excelled in the Army. He was offered a number of different assignments, but always he chose the infantry. He loved the infantry. That's where he wanted to be, defending freedom on the frontiers with his fellow foot soldiers, and they were all his great friends. In 2003, Travis served on his first deployment in Iraq with the historic 101st Airborne Division and participated in Operation Iraqi Freedom. After he completed the harrowing deployment, Travis returned to civilian life. But not for long. The fact is he was bored. You know that. He was very bored. He wanted back in. As his mother Elaine has said, Travis "loved the Army and he loved everything about being with the troops." He just loved it. In 2005, he re-enlisted and joined the legendary 10th Mountain Division, based at Fort Drum, New York, where

he

[I] was honored to visit last year. In August of 2006, Travis left his second deployment to Iraq. He was stationed in a hotbed of terror and terrorist activity known as the "Triangle of Death." Not a good place. On the morning of June 1st, 2007, in a town outside of Baghdad, Travis and his three-man squad received a report that several suspected terrorists were walking toward an intersection nearby. Nothing good was going to happen. They all knew it. Travis directed his squad immediately to the location. When they arrived, he got out of the Humvee and walked toward the two suspicious men. And he knew right from the beginning. As Travis began to search one of the insurgents, the man resisted and became totally violent. Travis engaged him in hand-to-hand combat. As Travis wrestled to get the enemy's hands behind his back, the man began to reach for something, and Travis knew what it was. He realized the man was wearing a suicide vest. Just as the terrorist was about to set off the deadly explosives, Travis wrapped his arms and his entire body around him and threw him to the ground, away from his troops, who were right next to him. He put himself on the top of the enemy and he shielded his men from certain death. The terrorist detonated his suicide vest and Travis was instantly killed. In his final moments on Earth, Travis did not run. He didn't know what it was to run. He did not hesitate. He rose to the highest calling. He laid down his life to save the lives of his fellow warriors. In so doing, he embodied the deepest meaning of the motto of the 10th Mountain Division: He "climbed to glory." Now Travis is looking down from above on all of us — on all of his fellow warriors, on his great family — wrapped in glory, the loving glory of Almighty God. We're grateful to be joined by the three squad members that Travis saved: Private First Class Michael Kistel. Michael. Where are you, Michael? Thank you. Please, stand. Stand. Thank you. (Applause.) Thank you. Specialist Travis Robertshaw. Travis, where are you? Travis, thank you. (Applause.) Thank you, Travis. And Specialist Sand Aiyo. Sand, thank you very much. Good. (Applause.) Thank you. Appreciate it. Today, we are privileged also to be joined by more than 50 soldiers from the 10th Mountain Division, including those who served alongside Travis — knew he was brave from day one. They really loved him. They wanted to be here. Would you please stand? (Applause.) Thank you very much. Thank you for being here. Your lives of service do honor to our country, to Army values, and your fallen brothers-in-arms like Staff Sergeant Travis Atkins. And he's looking down. He loves you all. Just a few days before that June morning when Travis left on his last mission, he called his son Trevor to wish him a very, very special eleventh birthday. Trevor didn't know that he would speak to his dad for the last time. But in the 12 years since, he's always known that his father gave his life for our nation and for our freedom. He knew that his father was a hero right from the beginning, long before today. Trevor has said that he wants our nation to remember his dad as "the best father and best soldier that anyone could ask for." Trevor, that is exactly how we'll — your Dad will be remembered. He will be remembered truly as "the best father" and he will be remembered as the best soldier. You can't get better than the Congressional Medal of Honor. You just can't. So thank you very much. And I'd like you to come on up. Please come up. (Applause.) Please come up. Please. Your father's courage and sacrifice will live for all time. And every time we see our stars and stripes waving in the sky, we will thank our great Travis and we will think of every American hero who gave their last breath to defend our liberty, and our homeland, and our people, and our great American flag. Now, I'd like to ask the military aide to read the citation. And I would also like, perhaps, in honor of your father, perhaps you could say just a few words. Would you like that? Please. MR. OLIVER: Thank you, everyone, for being here, first off. It's an absolute honor to have every single one of you here. It's something that I can't really put into words. It's something that's surreal. And I still — I still haven't fully accepted it yet. So, just all over appreciation for his men. Everything you have said to me over the last few days has meant the world to me, and it changes my life every, every day. That's — the medal is something that I take very — a lot of pride in, but it's the words that are the real prize and what really means the most to me. And, when it comes to my dad, he always had the funniest stories about you guys. And seeing you guys throughout — I was a young kid, but he let me know. (Laughter.) And — no, I just — I feel so close with you and to him every — every story I get to hear. And I'm just — I'm glad that you got to enjoy his love and his energy. Thank you. THE PRESIDENT: Beautiful. Thank you. (Applause.) MILITARY AIDE: The President of the United States has awarded, in the name of Congress, the Medal of Honor posthumously to Staff Sergeant Travis W. Atkins, United States Army. Staff Sergeant Atkins distinguished himself by conspicuous acts of gallantry and intrepidity at the risk of his life above and beyond the call of duty on 1 June, 2007, while serving as a Squad Leader with Delta Company, 2nd Battalion, 14th Infantry Regiment, 2nd Brigade Combat Team, 10th Mountain Division, in support of Operation Iraqi Freedom. While manning a static observation post in the town of Abu Samak, Iraq, Staff Sergeant Atkins was notified that four suspicious individuals, walking in two pairs, were crossing an intersection not far from his position. Staff Sergeant Atkins immediately moved his squad to interdict them. One of the individuals began behaving erratically, prompting Staff Sergeant Atkins to disembark from his patrol vehicle and approach to conduct a search. Both individuals responded belligerently toward Staff Sergeant Atkins, who then engaged the individual he had intended to search in hand-to-hand combat. When he noticed the insurgent was reaching for something under his clothes, Staff Sergeant Atkins immediately wrapped him in a bear hug and threw him to the ground, away from his fellow soldiers. Maintaining his hold on the insurgent, he pinned him to the ground, further sheltering his patrol. The insurgent then detonated a bomb strapped to his body, killing Staff Sergeant Atkins. In this critical and selfless act of valor, Staff Sergeant Atkins acted with complete disregard for his own safety, saving the lives of the three soldiers who were with him and gallantly giving his life for his country. Staff Sergeant Atkins's undaunted courage, warrior spirit, and steadfast devotion to duty are in keeping with the highest traditions of military service and reflect great credit upon himself, the 2nd Brigade Combat Team, and the United States Army. (The Medal of Honor is presented.) (Applause.) END 4:32 P.M. EDT

Let's move to a different topic:

Garbage

. Medea Benjamin and Nicholas J.S. Davies have written it and many sites will publish it. I just was told we did this here. Did we? We do a lot here and Ava and I've long covered the campaign websites of candidates. I'm disclosing we did it here -- don't remember it this go round but there's a lot going on offline these days -- in case anyone needs an out for this critique I'm about to offer. They've done garbage. Let's use Joe Biden as an example, from their bad writing:


Although Biden has yet to throw his hat into the ring, he is already making videos and speeches trying to tout his foreign policy expertise. Biden has been engaged in foreign policy since he won a Senate seat in 1972, eventually chairing the Senate Foreign Relations Committee for four years, and becoming Obama's vice president. Echoing traditional mainstream Democratic rhetoric, he accuses Trump of abandoning US global leadership and wants to see the US regain its place as the "indispensable leader of the free world." Biden presents himself as a pragmatist, saying that he opposed the Vietnam War not because he considered it immoral but because he thought it wouldn't work. Biden at first endorsed full-scale nation-building in Afghanistan but when he saw it wasn't working, he changed his mind, arguing that the US military should destroy Al Qaeda and then leave. As vice president, he was a lonely voice in the Cabinet opposing Obama's escalation of the war in 2009. Regarding Iraq, however, he was a hawk. He repeated false intelligence claims that Saddam Hussein possessed chemical and biological weapons and was seeking nuclear weapons, and therefore was a threat that had to be "eliminated." He later called his vote for the 2003 invasion a "mistake." Biden is a self-described Zionist. He has stated that the Democrats' support for Israel "comes from our gut, moves through our heart, and ends up in our head. It's almost genetic." There is one issue, however, where he would disagree with the present Israeli government, and that is on Iran. He wrote that "War with Iran is not just a bad option. It would be a disaster," and he supported Obama's entry into the Iran nuclear agreement. He would therefore likely support reentering it if he were president. While Biden emphasizes diplomacy, he favors the NATO alliance so that "when we have to fight, we are not fighting alone." He ignores that NATO outlived its original Cold War purpose and has perpetuated and expanded its ambitions on a global scale since the 1990s – and that this has predictably ignited a new Cold War with Russia and China. Despite paying lip service to international law and diplomacy, Biden sponsored the McCain-Biden Kosovo Resolution, which authorized the US to lead the NATO assault on Yugoslavia and invasion of Kosovo in 1999. This was the first major war in which the US and NATO used force in violation of the UN Charter in the post-Cold War era, establishing the dangerous precedent that led to all our post-9/11 wars. Like many other corporate Democrats, Biden champions a misleadingly benign view of the dangerous and destructive role the US has played in the world over the past 20 years, under the Democratic administration in which he served as vice-president as well as under Republican ones. Biden might support slight cuts in the Pentagon budget, but he is not likely to challenge the military-industrial complex he has served for so long in any significant way. He does, however, know the trauma of war firsthand, connecting his son's exposure to military burn pits while serving in Iraq and Kosovo to his fatal brain cancer, which might make him think twice about launching new wars. On the other hand, Biden's long experience and skill as an advocate for the military-industrial complex and the US's militarized foreign policy suggest that those influences might well outweigh even his own personal tragedy if he is elected president and faced with critical choices between war and peace.

The Iraq War is largely ignored in their crappy piece. In the above it's reduced to he voted for the war. Wow. That's all Joe did?

I like Joe and have known him for years. He didn't get cut any slack in 2007 and 2008 when he was running and I haven't cut him any slack as he amps up another run.

He was over Iraq for eight years. Barack couldn't put Hillary in charge of Iraq -- even though the State Dept was given control of Iraq in his first term. Why? She'd publicly called Nouri al-Maliki a thug (she was right) in an April 2008 Senate hearing. Nouri was then the prime minister of Iraq. Barack put Joe in charge.

Once in charge, Joe oversaw many disasters and this would most infamously include the US government (via The Erbil Agreement) overturning the 2010 election that saw Nouri pushed out. Nouri refused to step down. For eight months, he refused. He brought the country to a standstill. It was a political stalemate. The White House decided to back Nouri. They negotiated The Erbil Agreement -- a legal contract that was little more than a horse trading agreement. Nouri gets a second term and in exchange Nouri will do X,Y and Z for the other political blocs. Of course, Nouri never honored his part of the contract.

But Joe was part of that. When the politicians then tried to do a no-confidence vote to get Nouri out of power, it was Joe that pressured then-President Jalal Talabani to tank the vote (which Jalal did).

Don't pretend that you're covering Iraq or war and peace and you don't meantion one damn thing that Joe Biden oversaw with the occupation of Iraq.

For Medea, the Iraq War ended the minute Barack was elected. She whored and there's no other word for it. Even today, this passes for bravery and honesty on her part:

But neither Obama nor Trump has seriously tried to end our "endless" wars or rein in our runaway military spending. Obama's opposition to the Iraq war and vague promises for a new direction were enough to win him the presidency and the Nobel Peace Prize, but not to bring us peace. In the end, he spent more on the military than Bush and dropped more bombs on more countries, including a tenfold increase in CIA drone strikes. Obama's main innovation was a doctrine of covert and proxy wars that reduced US casualties and muted domestic opposition to war, but brought new violence and chaos to Libya, Syria and Yemen. Obama's escalation in Afghanistan, the fabled "graveyard of empires," turned that war into the longest US war since the US conquest of Native America (1783-1924).

"Obama's opposition to the Iraq war and vague promises for a new direction . . ." I'm sorry, Medea and whatever man you're writing with now -- don't we all love how the whore, for all of her pretense at woman power, is forever writing with men? -- what happened with Iraq?

The war continues. Even with him out of office, Medea can't get honest about that. She whored for Barack because her gal pal Jodie Evans was a bundler for Barack. CODEPINK did not disclose that during the 2008 election -- despite Jodie being its cofounder and director. They were actively bird dogging Barack's main opponent, Hillary, they were heckling her and 'forgot' to disclose that they were not independent, they were not impartial, they were working to get Barack elected.

Medea, take your whore ass somewhere else. Barack is out of the White House and even now you can't get honest about him and Iraq. That's probably why you won't deal with what Joe did to Iraq AFTER he voted for the Iraq War. Lies and more lies from Medea. As we noted in "

The War Whores

" at THIRD:

5) Medea Benjamin. I Need Attention Benjamin spends a lot of time screaming for attention. She just doesn't care about Iraq. (Which might be a good thing considering what she tried to do to Afghanistan in 2009.) She made that clear in the middle of a 2007 hunger strike for Iraq when she suddenly switched her focus to Palestine. She's forever dropping Iraq as though the war long ago ended when it didn't. Medea scrambled her brain on something. Maybe it was drugs? Maybe she was tortured by the CIA -- during the infamous pie-ing? Maybe she just couldn't handle the foul body odor of Jodie Evans? Whatever it was, something pulled her focus and she's little more than a dabbler these days -- one who lacks the focus even to Tweet. As Margaret Kimberley (BLACK AGENDA REPORT) observed in 2014:



If there were a prize awarded for truly stupid twitter posts, Code Pink's Medea Benjamin should win with these words, "Obama spoke with Raul Castro yesterday. The ice is melting. Mojitos for all!" It is difficult to know where to begin in analyzing such nonsense. [. . .] As for Benjamin, anyone whose response to a foreign policy decision includes references to a cocktail should be ignored now and forever.



The following sites updated: